Today's post is a 3 in 1. I thought about breaking it up into 3 separate posts, but that seemed like a lot of extra work and since today is my birthday I didn't feel like any extra work. So make sure you read it all the way to the end.
love
- my tattoos Keiko and Stella. they make me feel more comfortable in my own skin.
wish
-that I had some extra money to treat myself today. It's kind of a bummer when you have to watch your pennies on your birthday.
know
- that when I think life is the pits, that there are people who have it worse off than I do. I've got people who care about me, a roof over my head, clothes on my back and food in my belly. in the grand scheme of things, life is far from the pits.
appreciate
- that people are patient with me. I can be a procrastinator sometimes. I don't know that I'd put up with some of my own antics.
want
- to eat lots of good food today: a juicy burger, some fried chicken, a cupcake or two, sushi and some cheesecake.
Come link up.
my birthday - it's my BIRTHDAY! as of 1:43 AM I am officially 33 years old. Woo! not sure how I'll be spending my day just yet. I really want to eat some good food and buy myself a new pair of shoes. I'm not sure that will happen though.
stick and balls - the hole in my ceiling is FINALLY fixed. I don't have to be creeped out by it anymore. a friend of mine said it kinda looks like a misshapen pecker and balls. I can see it. it's been painted over as well. you can still totally see where they fixed it. oh well, I don't really spend much time staring at the living room ceiling.
birthday rewards - it's kind of a pain to get all the emails from rewards cards and what not that you sign up for, but the birthday rewards are worth it (the other coupons too). so far I've partaken in a free lottery ticket and $10 off of $10 at Godiva. I paid $1.07 for 3 fancy chocolates and one of their fancy frozen chocolate drinks. awwwww yeaaah! I have a few more I plan to partake in soon.
passengers who handle business - the other day I was catching the bus home and the bus driver was being nice and let a drunk man on the bus even though he didn't have payment...but, he wouldn't move passed the yellow line and/or sit down, so he was holding up the bus from moving. the rest of the bus yelled at him to move and he finally did. then he got nasty with a gentleman in a wheelchair and they got to arguing. the bus driver tried to get in between them to stop them before the drunk guy got his shit handed to him by the man in a wheelchair. then a few passengers snatched the drunk guy by the pack of his shirt and tossed him off the bus. they didn't want any trouble for the bus driver.
weekend off - I've worked the last 3 weekends. I'm normally off every other weekend so this weekend is a welcome break. I actually requested Saturday off since I wasn't sure how I'd be spending my birthday.
I'm linking up with From My Grey Desk's H54F (high five for Friday).


Dear Tummy: Thanks for finally stopping with the weird aching pain and not making me have to go to the hospital. While I'd like to know what your problem was, I'm glad you're better.
Dear Chub: We can't be friends anymore. We never really were friends, I just put up with you. You should go, the sooner, the better. You should've never come here, so just go okay.
Dear ScruffyNerdy: I miss our late night Twitter arguments or whatever. They always gave me a good chuckle.
Dear Weather: Nice and sunny on Wednesday and Thursday and then raining on my birthday and my weekend off. What is your problem? Come on, that's just down right rude.
Dear You: I wish we were spending the weekend together. I could use some good cuddling. I'm still patiently waiting for you to find me.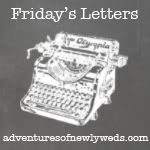 There's still a few more days left for you to enter my birthday giveaway!
finished - Coldest Winter Ever by Sister Souljah
reading - Sex, Lies & Online Dating by Rachel Gibson