gifts in the form of Hello Kitty from friends - my friend Jason happened upon a Hello Kitty x Hello Art art show and pop up shop one weekend in LA and was kind enough to pick me up some goodies. awesome not only because he thought of me while he was at the show, but because they're things I probably wouldn't have been aware of or gotten otherwise.
days off from work - I don't want to be there right now. home crocheting and sewing is great right now. I have a lot to do and the time off is needed. now if only I had PTO.
finding the right color of yarn for a project - it's like finding the perfect pair of jeans. I've been on the search for a good navy yarn that's not to purply and I think I found it and it's soft too.
blog friends turned real friends - no explanation needed *waves hi to new friends*
this quote from Marc and Angel - "Love is a choice; it's not magic. There is no such thing as 'the one. You are not destined for any relationship other than the one you help create. Spend enough time with another loving person, and biology eventually kicks in. So use your head and find someone you really enjoy spending time with, who you don't feel pressured to impress – someone who makes you feel loved, relaxed, and comfortable in your own skin."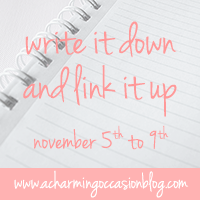 I saw a couple of these write it down and link it up posts and thought I'd join in. I write in all caps most of the time. My coworkers think my "N" and "H" look the same. I guess I can see it. Whatever. The quote is from The Alchemist.
Check out this post
that I wrote last Saturday to see why it's a favorite of mine. And my signature, super simple.
reading - gonna go pick up A Feast of Crows by George R.R. Martin later today from the library
This post brought to you in part by: