Sunday it was 60+ degrees and today...today my phone says it's gonna snow. I'm super ready for spring, but in the mean time, here's a comfy in between outfit. I nice cozy sweater with some jeans and Converse. I love a good v-neck shirt, they make my boobs look smaller or so I'm led to believe.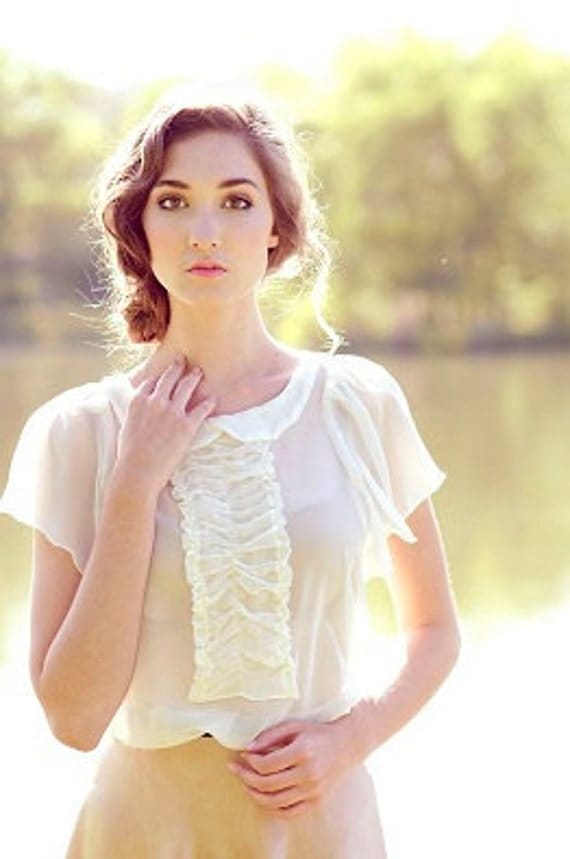 chiffon ruffle top to by Penny Rae Vintage on etsy

I love Maylee's sweater and button up combo. It makes me want to buy more button ups. And her mint shoes are awesome too.

So simple is Miriam's outfit. Solid black over a polka dot top. Another sweater over a shirt combo. I always feel like she's just come from a photo shoot when I read her blog posts. She's always well put together. Clean and crisp.

I'm not super girly, but I love this ruffly skirt and how it's paired with a simple denim shirt. Just my style.
And if you haven't check out my shop yet, go ahead and get to it. I'm trying to clear it out before spring so I can start with a clean slate. It's a great time to pick up cuddly cowls and fun animal hats AND at 50% off with the code SPRING50.
reading - Heads in Beds: A Reckless Memoir of Hotels, Hustles and So-Called Hospitality by Jacob Tomsky
This post brought to you in part by: