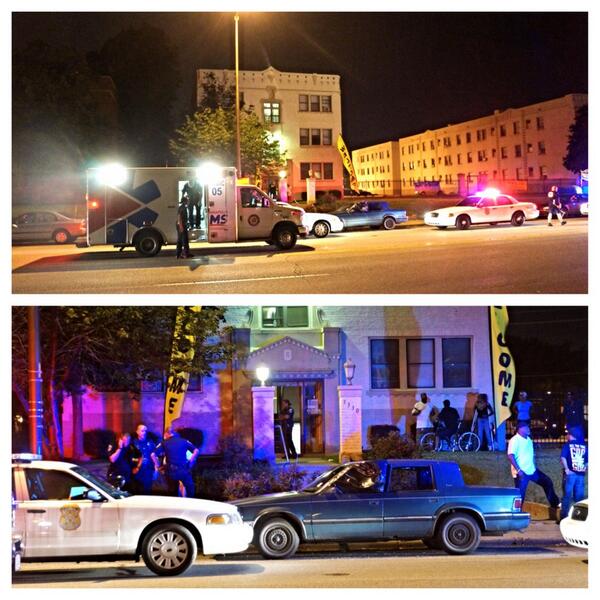 Last night as I was trying to motivate myself to get up and take a shower so I could go to bed, I heard two loud bangs down the hall from my apartment. I thought it was gun shots, but told myself no...it was probably just someone trying to kick in a door. I then placed my desk chair in front of my door as I have been doing lately and made sure all my locks were locked.
A few minutes ago I was listening to the news and heard the newscasters say shot and 33rd and Meridian. That's where I live...33rd and Meridian. I didn't quite hear what was said before that so I got online and did a little bit of searching and found
this tweet
(1 male in his 20's shot in the back while being accosted at 3330 N. Meridian St. IMPD investigating).
I want to move. NOW! My lease isn't up until September. I've been looking for a new place to live for awhile and know exactly where I want to live. Even though I don't have much of my stuff packed and ready to go, I would up and leave now if I could.
That's another incident way too close to home (two summers ago my neighbor down the hall was stabbed to death in his apartment). There are cops at my building all the time from what my friends who drive by tell me and my neighbor who lives in another building next door. I know that these types of things can happen anywhere. (A teen was murdered just this Sunday in one of the safest places.) But It's just too much for me, here.
I do my best to be safe when I'm at home or I'm coming and going. I don't EVER open the door to anyone I don't know (I get a lot of people knocking because they have the wrong apartment) and I only go on my runs when it's light out. I also put it out into the universe that I am safe from violence and that I am protected by the universe. I feel like it helps.
Still though, I'm ready to move.
reading - Beginner's Greek by James Collins
This post brought to you in part by: